AAA Garage Door Solutions is your all-in-one expert for garage door repair in Sedona, AZ. Whether your door squeaks and squeals, or has stopped working altogether, our team of professionals is standing by to make sure it gets the superior service it needs to function smoothly.
Our garage door company begins every service call with a thorough evaluation of your door. This helps ensure we're taking the right approach to service and that we're addressing the entire scope of the problem. Expect results that not only improve your door's function, but also extend its life and improve its reliability.
Complete Scope of Services
When we say we're an all-in-one garage door repair expert, we mean it! We do whatever it takes to get your door working, including:
Torsion spring repair/replacement: Broken torsion springs make it difficult for your door to raise and lower. We offer garage door spring repairs, swapping out old, damaged springs for new ones that are perfectly wound. We also check your counterbalance system to make sure everything works right with the new spring.
Sensor alignment: Misaligned sensors can cause your door to open or close awkwardly, or not respond at all. Call us to adjust sensor position or replace the sensors themselves, to ensure your door goes up and down smoothly and without getting stuck.
Track alignment/lubrication: Lubricating tracks and ensuring proper alignment are two of the simplest maintenance items any Sedona, AZ garage door owner can keep up on. Just call us! We'll check your tracks and make sure they're in the right position, and that they support fluid door movement without snags or friction.
Counterbalance repairs: The counterbalance system is what allows your garage door motor to raise and lower a weighty door with relative ease. In addition to garage door spring repairs, we also service the entirety of the counterbalance system to ensure proper support and safe door operation.
Motor repair/replacement: If your garage door motor struggles to lift and lower your door or has stopped working altogether, it's time for a replacement. We'll retrofit your old motor with a new, proven model that's best-suited for your door size and style.
Electrical repair: Electrical problems won't go away by themselves. We can fix everything from opener wiring to lighting issues, and even help you set up automation systems for your garage door. We make quick work of electrical problems!
Servicing All Garage Door Brands
We haven't met a garage door installation in Sedona, AZ we can't fix and our team is familiar with all major door and equipment brands. Some of the many brands we're confident servicing include:
C.H.I.
Clopay
Genie
LiftMaster
Marantec
Steelhouse
Steelite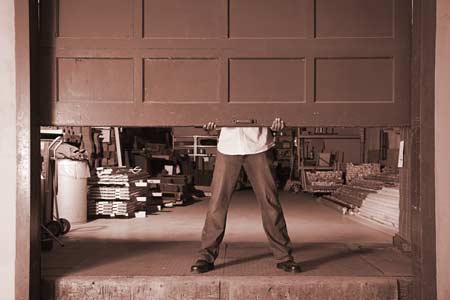 Motor Fixes, Track Alignments, & More
Don't let your garage door become an inconvenience! At the first sign of a problem, call AAA Garage Door Solutions to schedule garage door repair services. We'll give your door the attention it needs and the solutions that keep it running right. Contact us today at 928-202-7576 to schedule a service appointment.